Hello all! Today I'm going to bare my soul a little bit. And by bare my soul, I mean my kitchen. If you haven't noticed, I've never shown my kitchen before. But I thought that in the name of being honest and forthcoming with y'all, I might as well share with you. So here we go. No judgement here friends.
So, just to recap, we live in a rental. It's a super basic builder grade house that was built in 2003. The paint colors aren't what we would choose and the house has zero character, but it is miles above our first home, and keeps us safe and dry. I'm good with it. I honestly am. The kitchen though… is very 2003. What I mean by that is that it's just an almost 15 year old kitchen (2003 was almost 15 years ago?! I feel more than ever now that I am getting old!) that hasn't been updated. It's functional, albeit tiny, it's just not pretty. So I thought I'd share some tips on living in a kitchen that's either small, or in my case, an ugly rental.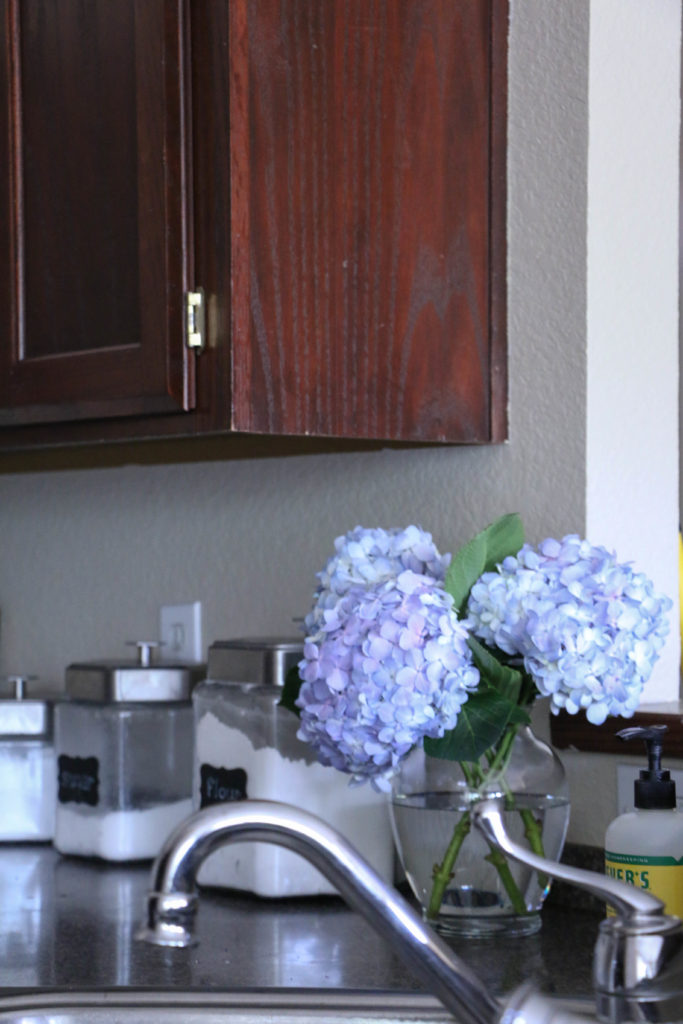 Decorate, decorate, decorate!
For me, the kitchen never really seemed like a place to decorate due to its functionality. The kitchen is a very utilitarian room, but that doesn't mean it shouldn't get some love! When I added décor into my kitchen, it covered up some of the ugly, and made it a bit more bearable. I decorate above my upper cabinets, on the wall, and even a little on the countertops.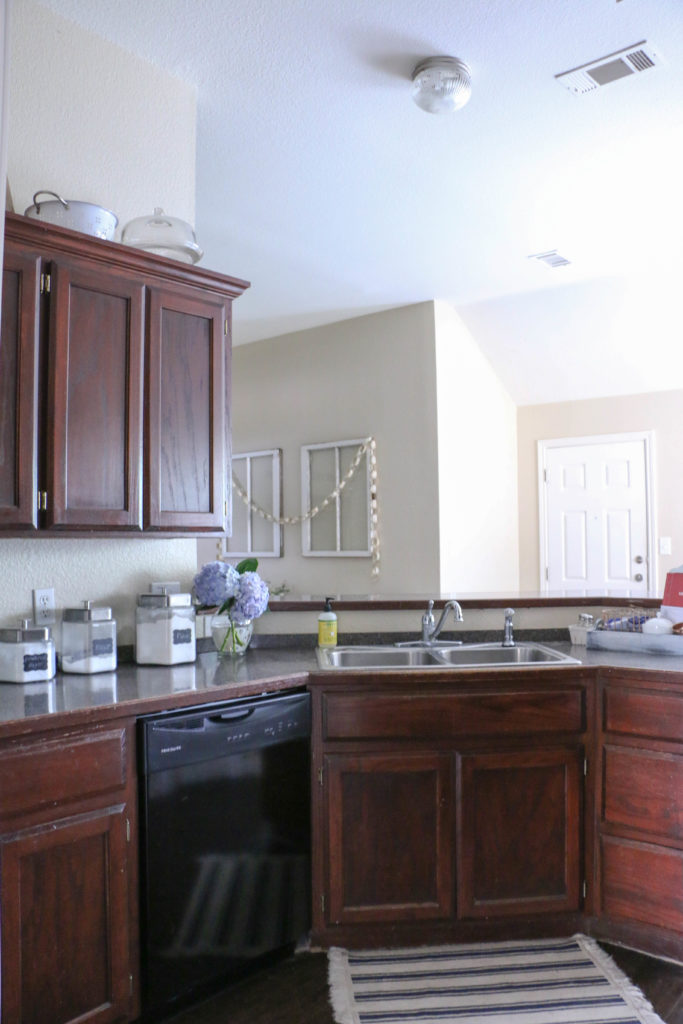 Clear the counters!
This may seem counter intuitive to my last statement, but seriously. Toasters are not decoration. Knife blocks, while perfectly functional, are not pretty. Now, to each his own, I totally understand. But in my experience, putting the daily appliances away makes the counter space more refreshing. I keep my toaster in a lower cabinet, and I use it every day. I honestly don't mind taking it out every day. It keeps my counter from looking cluttered, and leaves room for pretties.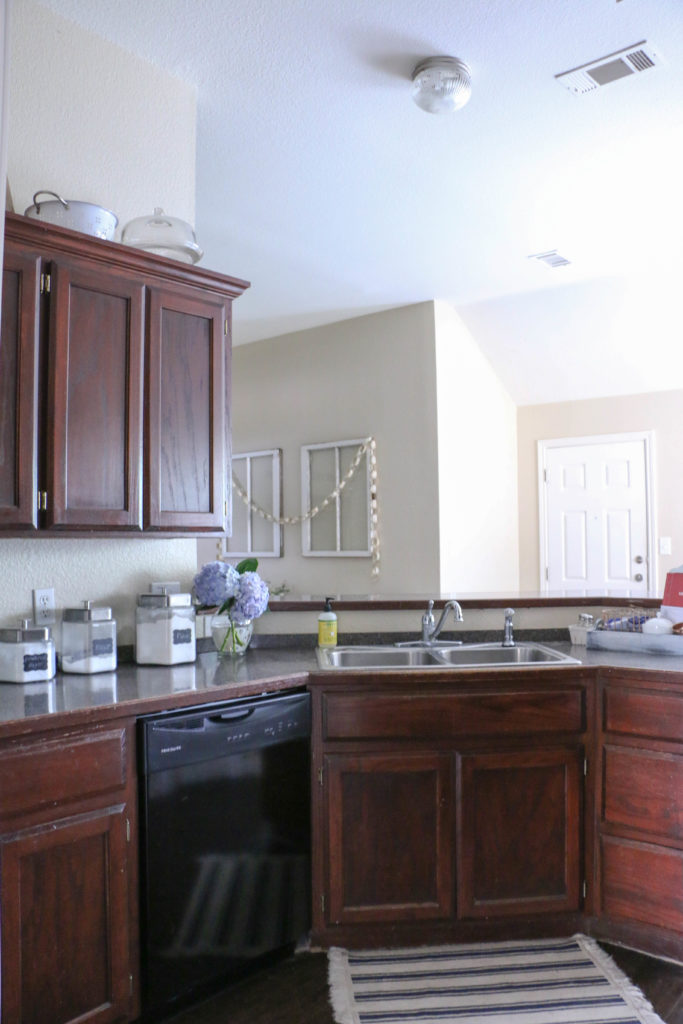 Add some cute textiles.
So the floors aren't your top choice. Maybe your years away from a kitchen reno, and maybe you can't touch anything in your rental. I feel ya. A little rug in front of the sink can go a long way. A cute tea towel on the stove (not a ratty old dishrag) can help. These are inexpensive fixes that can distract the eye from what's really there. Choose something that fits your style, and the good news is that you can change it out whenever you want!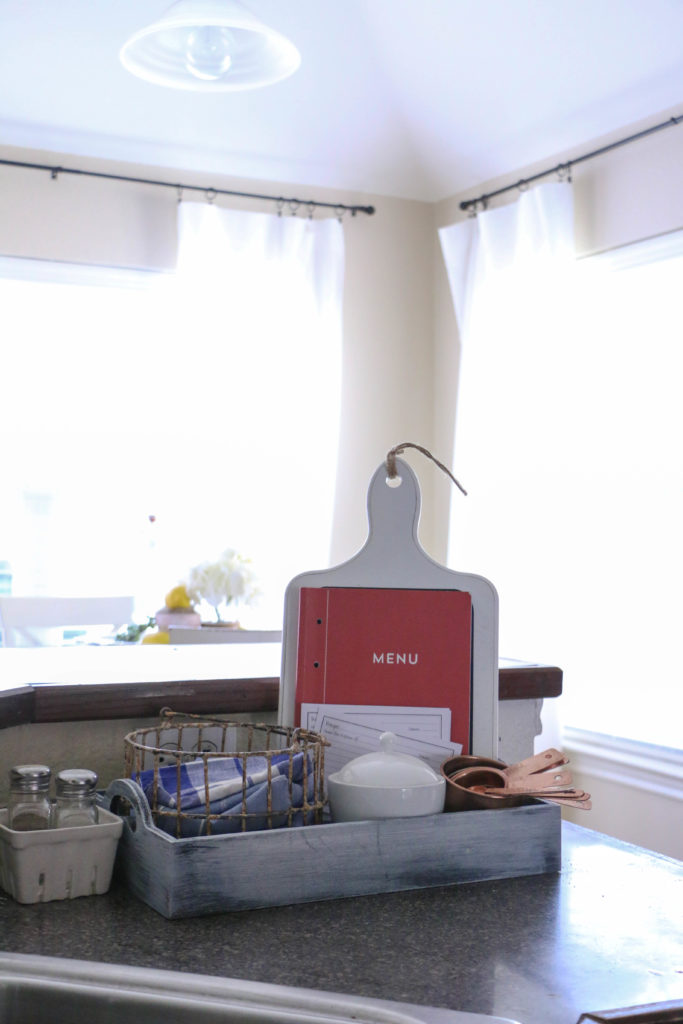 Create vignettes.
Bring in some fresh flowers, or a bowl of fruit and style around it. Do what you have to do. I'd rather have something pretty on my countertops than a jumble of appliances and cords. It just feels thoughtful, even if the bones of the kitchen aren't.
My kitchen is dark, and while in a perfect world, I would replace the black appliances, paint the cabinets, and concrete the countertops, that's just not our reality right now. I have learned to love this little kitchen though. It is small, which means it's easy to clean. It is open, which means light flows in during the day. It is miles above the kitchen from the 1950s we had in our previous rent house. I'm grateful for this little kitchen, even if it's not a magazine worthy kitchen by any means.
What about you? Do you have a kitchen like mine? Do you love it or hate it? I'd love to hear about it! Well, that's all for today, friends! Have a fabulous day!