Hello, hello! I'm so glad you're here! Today I'm sharing my favorite kind of project…a free one! (Cue all the praise hands emojis!) Lately, I've kind of been giving a certain area in my living room the side eye. As in, it was just driving me crazy and I knew it needed something, but I couldn't figure out what.
I had these windows hung when we first moved in, and last year after Christmas I hung a paper chain over it that was left from the tree. But it was just so plain it was driving me crazy! I've been seeing these cute hand written scrolls around etsy and Pinterest, and I thought I might try and make my own. All you need is some Kraft paper, a Sharpie, twine, and possibly some hot glue. Since I had all these items on hand, it seemed easy enough.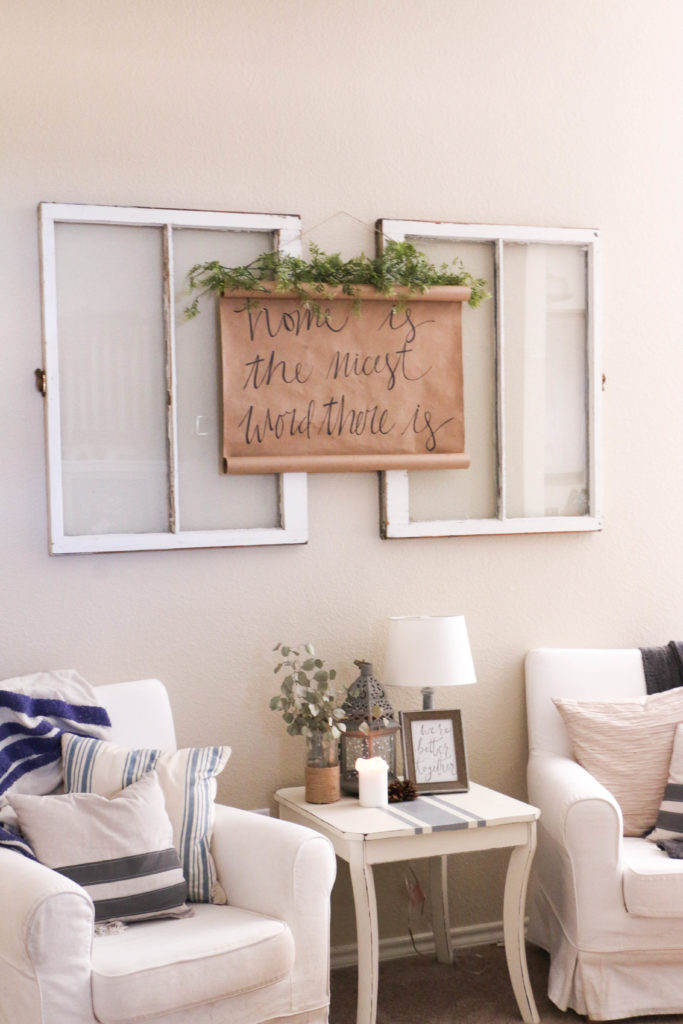 I cut the paper, and let it naturally roll at the top and bottom. I put a dab of hot glue on the corners to help it stay in place. Then I wrote one of my favorite quotes from one of my favorite childhood authors, Laura Ingalls Wilder. I've always loved the quote, Home is the nicest word there is, and so I figured it would be perfect for our living room.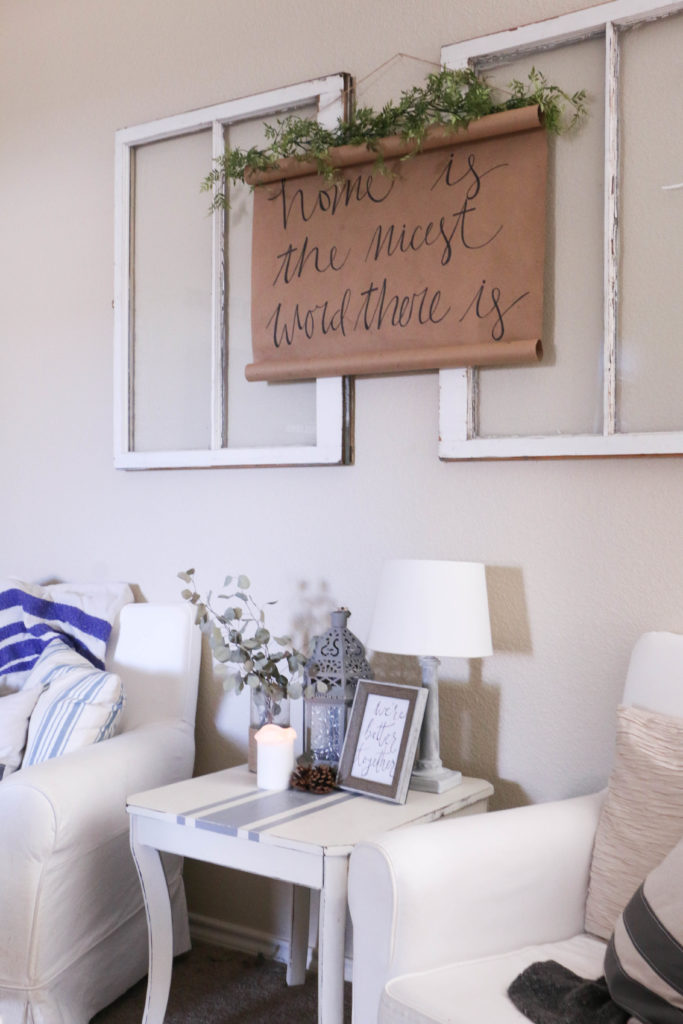 I wrote with a Sharpie, and strung some twine through the top roll. It took me about twenty minutes total. I free hand wrote this, but if you're unsure about your writing abilities, you could totally use a stencil!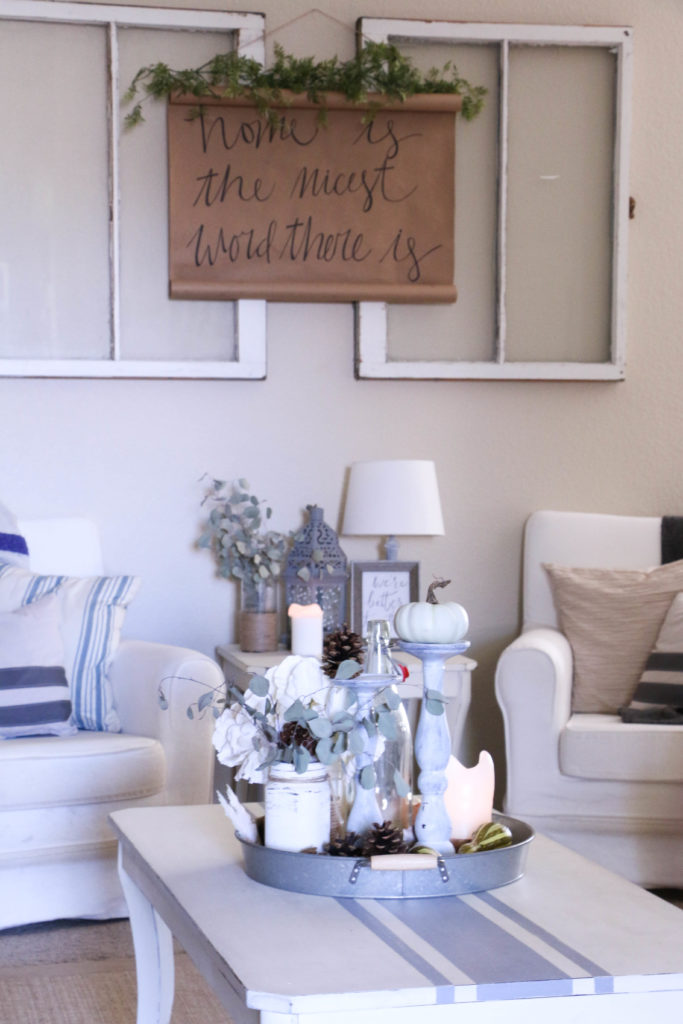 I had some greenery on hand, so I added that to the top. I still think the sides need a little something, but that'll come later. For now, this is what I have, and it was free, so I can't complain.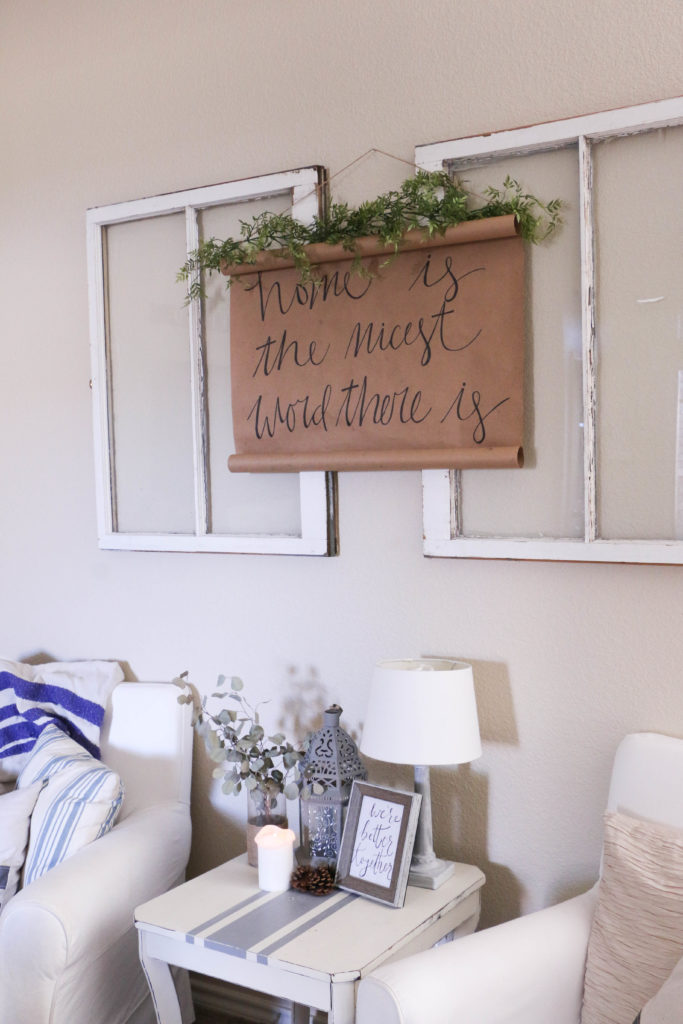 Now, I will say, if I were to do this again, I would probably use different paper. I had Kraft shipping paper on hand, and that's what I used, but it is very think, and so it was hard for it to lay flat where I wanted it. If I were to do it again, I think I would try the roll that comes from the painting section to protect edges of floors. It's much thinner, and so I imagine it would lay flatter.
Even so, this worked out just fine, and I'm happy with this little project. It was easy, and it makes a statement, so it's a win-win for me! I won't bore you with more unnecessary details, so that's it for today! Have a fabulous day, friends!